Most of us know how important our health is to enjoying our lives. We know that there is no quicker way to ruin a vacation than by getting sick. We know that we need to eat a healthy diet and get plenty of exercise if we want to maintain our youthful vigor. And we know that staying healthy is something that only we have control over – it is not something we can ask someone to do for us. Health can't be delegated; it simply needs to be practiced. Kids, though, don't know all of these things until we teach them about them. They know that cookies taste good, but not that they are full of unhealthy sugars and processed foods. They know that playing outside is fun, but they likely don't realize the physical exercise is good for their health, too. Our kids can only know what we teach them, so if we want our children to know about wellness and body health, then we need to teach them about these values ourselves. Below are some ways to teach your kids about wellness and body health. Since every child is different, pick and choose what makes sense for your son or daughter, depending on his or her age and maturity level.
TIP #1 – Take a positive approach to health. A lot of the time parents think that they need to warn their children about the dangers lurking behind every corner to get them to pay attention and guard themselves against sickness. But this is often the wrong tact to take.
In his book What Do you Really Want For Your Children, Dr. Wayne Dyer says that, "the more children learn from you to rid themselves of attitudes which foster sickness, the more you are helping them to enjoy life each day. They will actually live longer and more productive lives if they learn wellness as very young children."
So don't say "if you don't put on a jacket, you will catch a cold." Instead, say something like "This jacket will keep you warm and make your day more fun!"
TIP #2 – Use anatomical models when possible. It can be much easier to teach your kids about their bodies if you have something to show them and explain it with. A regular doll can work well, but there are also better options on the market. Remember the old game "Operation"? That is a great game for teaching your children about body parts, even if it is more than thirty years old already.
TIP #3 – Set a good example. The best way to teach your kids about being healthy is to set a good example. Make sure that you are eating healthy food – don't deny something to your child that you then indulge in yourself. Explain to your son or daughter what you are doing. For example, you can say, "Mommy is going to the gym because exercise keeps her healthy. You don't go to the gym because you play outside instead." How much you explain depends on your child's age and level of interest.
According to Dr. Dyer, "It means simply being as healthy as you possibly can be, and being determined not to allow your wonderful body, the place where your mind currently resides, to deteriorate unnecessarily."
TIP #4 – Make playing outside a regular part of your child's life. A lot of kids forget about the joys of sports and jungle gyms because they get sidetracked by video games, television, and movies. Instead of taking these things away from your kids, make playing outside more fun so that they naturally choose it over the indoor activities. Start taking them to the park, or go see a baseball game to inspire your son or daughter to play sports himself/herself. Install your own jungle gym if you have the space.
TIP #5 – Have fun! No matter how healthy the diet you feed your child, how much exercise that child gets, or how much that kid knows about his or her own body, there is nothing more important than your child's mental health. Make sure you are engaging your son or daughter mentally and showing them how to have fun.
Dr. Dyer says that, "when children laugh they are actually releasing into their bloodstream chemicals which are necessary for the prevention and cure of disease."
Laughter truly is the best medicine, especially for children. So make life fun and every once in awhile, let your son or daughter have that cookie!
About the Guest Blogger – Michelle Lim is a writer who specializes in writing about health and wellness topics. Michelle is a writer on Anatomy Now's site. You can find Michelle on Google +.
When it comes to getting the most return on investment from your employees, there are very few programs that pack as much punch as employee health and wellness programs. In over 200 scientific studies over the last decade, the evidence for their value is consistent. In addition to helping employees stay healthy, a factor that can help reduce the cost of employee health insurance premiums, they often create a workplace culture that is focused on high levels of personal productivity.
In an age where companies are looking for every avenue for improving their performance metrics, while maintaining costs, workplace wellness programs make good sense. The Centers for Disease Control publishes a report that shows just how close the link is between employee health and workplace productivity. According to the most recent figures:
• Indirect costs of poor employee health, which can include illness, absenteeism and decreased work output, may be several times higher than the actual costs of medical care after-the-fact.
• In the US alone, productivity losses that are related to personal and family health issues can cost employers as much as $1,685 per employee per year equating to $225 billion in costs annually.
Corporate sponsored health and wellness programs provide many unique benefits to employees and the companies they work for. Simply by including an easy to manage health and wellness program, your business can improve its bottom line. Here, you will find a rundown of the top ten benefits that come directly from implementing an employee health and wellness program.
#1 – Up shift in productivity levels
When employees are at their physical and mental best, they tend to also be much more productive in their daily assignments. This can give your company a clear advantage as the work your employees do can be more focused on quality and innovation.
#2 – Increased awareness of personal health
Imagine having a team of employees who look forward to coming to work each day as part of a balanced lifestyle? When you put a workplace wellness program into place, you provide this opportunity to allow your employees to prioritize their personal health and well-being.
#3 – Prevention of serious illnesses
One of the biggest set-falls in business happens when a large number of employees become ill during annual spikes in the cold and flu season. This can be slowed down dramatically by providing access to wellness support and education, which help employees take preventative steps to reduce illness.
#4 – Low cost incentive for all employees
Employers today are looking for ways to incentivize the workplace to attract quality candidates and to keep their current employees engaged. A health and wellness program can be a very cost effective manner in which to accomplish both of these objectives.
#5 – Less absenteeism and more retention
Indirectly as a result of having a greater awareness and support for health and wellness, employees are more apt to respond by missing fewer days at work. Likewise, having the benefit of working for an employer that supports wellness can increase retention rates.
#6 – Improved recruitment efforts
Every employer has the goal of attracting the best candidates out there to take their business into the next phase of development. A key to getting quality employees on board is to emphasize the health and wellness incentives as part of a well-rounded compensation and benefits package.
#7 – Higher levels of employee morale
It's been shown over and over again in studies that when employees are healthy, they are more apt to experience above-average employee morale. This high morale and the energy it produces can spill over into all departments, making your business more successful.
#8 – Lower health insurance premiums
The rising cost of health insurance is on the minds of many business leaders today, especially as health care reform takes shape going into next year. A US Department of Health and Human Services report indicated that corporate wellness programs can reduce health care costs by as much as 55 percent.
#9 – Fewer employee accidents and workers' comp
Employees who are focused on personal health and physical well-being are less likely to put themselves into situations where they will become injured. This means fewer on the job accidents that can cost your company big.
#10 – Happier, less stressed employees
Wouldn't it be nice if you could look around and see happy, smiling faces among your employee population more often? Corporate sponsored wellness programs send the message to employees that you care about their well-being and want them to live healthier, more balanced lives. This care and concern goes a long way to producing less stressed out employees.
About the Guest Blogger – Mike Walters is a writer specializing in employee health and wellness programs. You can find Mike on Google +.
You've tried over and over again to stop smoking. Nothing is more frustrating than finding yourself simply unable to reach for the pack of cigarettes. You know the warnings. You know the risks. Yet, for some reason, every one of these things hasn't worked for you. Well, why not? Let's explore the flaws.
#1 – Going Cold Turkey
It does not address the chemical and psychological dependency you have on cigarettes. Hands down, this method is rarely successful because it is just too hard to break the ties of this habit no matter how much you want to do so.
#2 – Substitute Nicotine With Caffeine
This is one of the more uncommon methods for quitting but proponents argue that drinking 2-3 cups of coffee or energy drinks per day will quell the body's chemical addiction to nicotine. However, this method simply replaces one addiction with another and, like many other methods on this list, does nothing to combat psychological cravings for a cigarette.
#3 – Nicotine Patches
NRT patches deliver a low dose of nicotine throughout the day, suppressing the effects of withdrawal from smoking. However, they don't address cigarette cravings. When a craving for a cigarette hits, and it will happen, the smoker has no defense.
#4 – Nicotine Gums
Most people find that nicotine gums just are not effective. Though some rarely say they work, most people do not like the taste or they do not get the same level of nicotine "high" as they would with smoking. Some people still smoke while using the gums, too, which the FDA recently condoned, arguably to combat declining sales.
#5 – Acupuncture
Though people often claim it reduces cravings and withdrawal symptoms, there are a couple reasons why acupuncture does not work for those who are trying to quit smoking. Acupuncture is meant to stimulate blood flow, which does not improve your cravings. It also does not address the desire need to smoke.
#6 – Prescription Medications
Some people reach out for prescriptions as an ideal way to stop the habit. It could work for you. However, the biggest risk here is a combination of the cost of the prescription and the simple fact that there are side effects. A cigarette often just seems like the easier choice.
#7 – Exercise
Exercising is an excellent way to get in shape and it can help you to stop eating poorly. However, you have to do it – and that is the biggest reason it fails. People are living more sedentary lives than ever and the thought of exercising enough to stop cravings is nearly impossible.
#8 – Eating Healthy
The problems here range from simply being unable to stick to a diet plan to not getting the cravings under control fast enough. Eating healthy as a way to stop smoking takes time and most people cave in before it works.
If you've tried some or all of these methods and are out of ideas, a 12 step program might be right for you. These types of programs have helped people fight all kinds of addictions, from alcohol, drugs, sex, gambling and also nicotine. Alternatively, you might want to try an electronic cigarette. While the FDA hasn't approved these as an effective method for quitting, they have a much higher success rate than traditional nicotine replacement therapy. E-cigs are simply a healthier alternative to smoking as they don't contain nearly as many toxins as cigarettes. People have used them to quit by gradually cutting down the nicotine content in their cartridges or "juice".
What are your experiences with these smoking cessation methods? Have you successfully tried any of them? Let us know in the comments section.
About the Guest Author – John Madden is a health and fitness advocate for Ecigarette Reviewed. After smoking for 10 years, he recently quit by switching to electronic cigarettes and credits doing so to an overall improved health and athletic endurance. Follow him on Twitter @theoysta.
Getting plastic surgery can be a great decision. You just have to make sure you choose the right doctor and know exactly what you're getting into before you get a procedure.
Before getting surgery you should consider that:
People Will Look at You Differently
Many people do not realize how things might change if they get plastic surgery. For example, if you are a small breasted woman that gets a breast augmentation, you have no idea what life is like for a woman with a large bust. Women can be cruel to busty women and some women make a point to try and entice the men you're dating to cheat on you or make you look publicly silly just because you're busty or sometimes even more so when they find out you've had augmentation surgery. You become competition for women that were once your friends (and even family). It can be heartbreaking and confusing. When you change your appearance drastically, you might be walking into a brand new life in more ways than one. Be ready to accept both the good and the bad.
You Absolutely Must Hire a Board Certified Surgeon
Your surgeon must be certified by the American Society of Plastic Surgeons. Do not make any exceptions no matter what anybody says. Currently, ASOPS is the only board that can guarantee that your surgeon is trained in the industry's current best practices.
Your Surgeon Must Have a Good "Portfolio"
Though your face and body are not a website or a piece of graphic design, plastic surgery is still an art form. Make sure that you can look at your doctor's past work and that it looks both natural and attractive. Female clients should look beautiful and the male clients should look handsome. If your friend or someone you know has had work done by the doctor, seeing his or her good work in real life is the best testimony.
It Might Be Very Painful
Reality shows make plastic surgery recovery look like an afternoon on the couch eating BonBons and gossiping with a friend. However, YOU might experience a lot of pain. Many people bounce back from surgery very quickly the second and third time they have procedures, but the first time can take some people 30 days to get back to normal.
You Need to Take Special Precautions if You're Getting a Newer Procedure
If a procedure is new, do yourself a favor and wait at least a year before getting it done. If you can wait three years, it's even better. Also make sure that your doctor has at least one to five years of experience with the procedure before getting it done.
The Real Cost of Surgery is More than the Doctor's Quote
When you get surgery, you are paying for the procedure, yes, but you are also paying for your medications out of pocket, time off of work, time for your spouse to take off of work and help around the house, you might be paying for grocery delivery, extra cab rides, gauze tape and other excessive wound healing gear etc. as well.
You Might Have to Have Maintenance Procedures
Some procedures might have to be re-done every 10 to 20 years or so. Breast augmentations sometimes need to be redone between the 10 to 20 year mark and facial surgeries sometimes need upgrades as well. Make sure you ask your surgeon about this, because he probably won't tell you up front unless your surgery needs renewals every few months to five years.
Your Surgeon Should Have Hospital Privileges
It's best to have your surgery done in a hospital. It's safer for you. If a doctor does all of his procedures in his office and there is no hospital close by in case of an emergency, then you might want to reconsider hiring him.
Your Anesthesiologist Must be Qualified
Anesthesia is serious business. You want to make sure that the person that is putting you under is qualified to do so. A doctor's certificate is not enough. Make sure that the anesthesiologist is hospital qualified before going under.
Your Surgeon Should be Your Point of Contact from Start to Finish
From evaluation, to price quote to surgery, you should always be talking to your surgeon. Nurses should only be helping the doctor, not consulting you and answering your questions. Be very leery if you have little or no contact with your actual doctor.
About the Guest Blogger – This has been a guest post on behalf of Dr Farah Meher-Homji at Cosmos Clinic in Sydney. Always take the time to carefully consider whether you need surgery before going under the knife.
1) Self – contamination leads to Nobel prize
H.pylori was discovered by two Australian scientists Barry J. Marshall and J. Robin Warren. Marshall thought that stomach ulcers were caused by bacteria. He failed to infect lab animals and in frustration decided to drink liquid containing Helicobacter pylori bacteria. He then promptly came down with gastritis. He was furiously criticized by gastroenterologists, especially for treating gastric ulcers with antibiotics. After a couple of decades, in 2005 Marshall got the Nobel Prize in Medicine, sharing the award with his colleague J. Robin Warren.
2) Connection between H.pylori and gastritis
For decades medical students were taught that gastric ulcers were caused by stress and poor diet. It was thought that bacterium could not survive in the acidic environment.  But Australian scientists have completely changed this attitude. Nowadays every doctor knows that 80% of stomach ulcers and 90% of duodenum (the upper part of the small intestine) ulcers develop because of Helicobacter pylori. Non steroidal anti-inflammatory drugs (aspirin, diclofenac, indomethacin, ketoprofen and other), alcohol, chemicals, parasitic infection, gastritis associated with systemic diseases (sarcoidosis, Crohn diseases and other) have less significance than H.pylori in the development of gastritis.

3.       How does H.pylori infection spread?
Like every other infection H.pylori has many ways to spread. So we can surely say thatH.pylori infection is contagious. The most common routes of infection are oral-oral or fecal-oral, iatrogenic spread (using unsterile pH probes and endoscopes) and spreading by flies. That is why third world countries have higher population colonization with H.pylori than better developed ones.

4.       A lifelong disease begins in childhood
In general, the infection develops at a young age. When children gain H.pylori, the infection is usually asymptomatic and in some children causes acute gastritis. Usually no specific diagnostic methods are used, so infection remains undiagnosed. Later manifestations begin in adulthood under some provocative factors such as stress, unhealthy diet, alcohol, caffeine and other.

5.       How does H.pylori survive in stomach?
Many people wonder how bacteria can last in stomach and remain undigested. The answer lies in many complex self – preservation processes of bacteria. The spiral – shaped bacteria can penetrate stomach's protective mucous lining and attach to epithelium (tissue that lines the stomach cavity). Moreover, they produce urease which protects bacteria from gastric acid and leads to ulcer formation.  H.pylori produces many other enzymes which also take part in malignant transformation (development of cancer) and reduce the immune response to infection.

6.       Unusual diagnostic procedures
Imaging tests such as esophagogastroduodenoscopy (EGD –esophagus and stomach observation technique), computer tomography, radiography are not very helpful in diagnostic process. EGD is more useful because a doctor can take a biopsy (a bit of stomach epithelium for investigation) and find bacteria in it. But the most interesting and exclusive tests are done in laboratories. They are H.pylorifecal antigen test, carbon 13 urea breath test and H.pylori serology.  H.pylorifecal antigen test is based on using antibodies to find H.pylori (the antigen which is bound by antibodies) in stool samples. Carbon 13 urea breath test is a catchy one. Patients have to drink urea containing carbon 13 isotopes and concentration of the labelled carbon is measured in exhaled air. During serological testing laboratory assistant is looking for antibodies against H.pylori in the blood. This method could be useful to observe the patient after H.pylori eradication.

7.       What diseases can H.pylori cause?
H.pylori causes pathology associated mainly with stomach. This includes gastritis (inflammation of stomach), peptic ulcers (epithelium defects caused by excessive gastric acid production), gastric adenocarcinoma (tumour at the site of the peptic ulcer) and lymphoma (also called MALT lymphoma is a kind of tumour of mucosa linings in the human body).

8.       Can H.pylori prevent autoinflammatory diseases?
It is widely known that people in poor countries have less autoimmune diseases but more infectious ones. The organism is then less sensitive to his own proteins and is more susceptible to those from the outside. So some researchers claim that infectious diseases (including H.pylori infection) can prevent from developing autoinflammatorydisorders.

9.       Link between Helicobacter pylori and dementia
Scientists found that among people with dementia, 65 % have H.pylori infection and dementia prevalence was higher in the infected group of people. After numerous investigations of various risk factors (age, sex, educational level and other) they stated that H.pylori is an independent risk factor for developing dementia.  It is interpreted that the bacterium leads to faster neurodegeneration (devolution of brain cells) processes which are the cause of dementia.

10.   Is it difficult to eliminate H.pylori infection?
The elimination of Helicobacter pylori infection is called eradication. It is performed with antibiotics and acidity reducing medication. Using only one drug is not enough. If you want to get rid of H.pylori, you have to take a long treatment including 3 drugs and if the treatment is not successful than more and different drugs should be prescribed. Usually doctors prescribe proton pomp inhibitors (to low acidity) and two types of antibiotics (ex. Amoxicillin and clarithromycin) for seven days.
About the Guest Blogger – bariatric surgery clinic Nordbariatric
It goes without saying that accidents occur on a pretty regular basis for most people. Whether it is a severe collision during a sporting event, a clumsy stumble down the stairs, or the kids are getting a little too rowdy in the backyard. Even though the vast majority of the time serious injuries can be avoided, here are a few characteristics to keep in mind when dressing those wounds that are unavoidable.
1) Free of particles and toxins
The first step is to carefully make sure that the wound has been cleaned, or at least rinsed with water to ensure that the open wound is free of particles and toxins that may cause infections and prevent proper healing.
2) Non-Allergenic Ointments
When properly applying medical ointments you have to be sure to read the directions and ingredients of the products that you are using. Some patients may be allergic to those ointments that have additional ingredients you might not be aware of.
3) Wound Protection
You want to ensure that the bandages and plasters are going to be sufficient enough to protect the wound in case the patient is involved in an activity that may expose or potentially re-open the wound.
4) Protection Removal
When applying protection, make sure that it can be removed with ease so that the wound or the area around the wound is not negatively affected. The last thing the patient wants to experience is more pain due to improper application of bandages.
5) Resistant to Bacteria
After the protection has been applied, or when decided what type of initial protection to use, make sure that the wound is dressed so that it is impermeable to bacteria. Bacteria is obviously going to increase the severity of the wound and potentially lead to more serious medical issues.
6) Thermally Insulating
The common mistake that many believe is that a wound needs to "breathe." However, recent studies have shown that an open wound should be covered and insulated to promote cell life. Here is an article by the New York Times that explains the importance of insulating, as well as, allergic reactions to ointment.
7) Comfortable and Conformable
One of the last things to take into account when dressing a wound is to make sure that whatever you use is going to be comfortable for the patient and will reduce the restriction on their range of motion as much as possible. Comfort is key.
8) Doesn't need frequent changes
Surprisingly, the more often you have to change the dressing on a wound, the dryer the wound will become. A dry environment promotes cell death and it will then take longer for the wound to heal if the bandages are changed too frequently. See the article listed in #6 for further explanation.
9) Reasonably Priced
Bandages and plasters don't have to break your bank. Sometimes simple Bandaids from the local grocery store or pharmacy are the best options for dressing.
10) Reasonable Number of Materials
Depending on the size, severity, and location of the wound, will determine the number of materials that are needed to properly dress the affected area. Whatever the case may be, after you're done try to properly save your materials for potential future injuries to ensure quick accessibility and consideration to the environment.
About the Guest Blogger – As children, we all used to run and play, while acquiring bumps and scratches along the way. Most of us probably got right back up and kept on going along with our day like usual. Little did we know that avoiding the opportunity to properly address the wound can potentially lead to infection and possibly even more severe scarring.  The real first step when addressing the situation of a wound is to check and see if there is someone nearby who is qualified to assist, such as a doctor or someone who has received their MSN in nursing.
Cancer is devastating and it affects nearly 5 million people annually. Many people who are stricken with cancer have a long road back to recovery, not just the mental aspects of it, but the physical parts of it, too. For those that are recovering from cancer the fight is not over. Afterwards victims can achieve greater health to get back on the road of recovery and start living a normal life again. You get better care with concierge medicine in this case because the demands for traditional care are too high.
Here are 10 tips to achieve better health after cancer.
1) Stop Smoking – It doesn't matter whether it's cigars or cigarettes. Smoking slows down the recovery process because good breathing is part of good recovery. When you smoke you slow down the ability to breathe effectively.
2) Balance in Diet – Diet is probably one factor that led to cancer. Diet is a way to recover from it. Balance out the diet and ensure that there are good amounts of vitamin C in it.
3) Walking or Being Active – Becoming active is always good practice anyway, but building up your strength in the aftermath of cancer is vital to help you recover and live a normal life.
4) Stop Drinking – Drinking is bad for recovery because it retards the rate of the cells to recover. The white and red blood cells need to work actively to supply the proper nutrients into the system.
5) Drug Use – If you were a perpetual user previously it's a good idea to stop. Your body is recovering from the shock of cancer. Your body can not sustain further shock from reality-skewing drugs. Use only drugs prescribed by qualified physicians.
6) Don't Overdo it – This might be hard for those who have to be active all the time. Your energy levels post-cancer are extremely fragile so overdoing it may cause several problems. Gradually getting back into it is key – and hard to do.
7) Get Support from Others – When you talk through it with clergy or others who have gone through your predicament, mentally you get better and it helps motivate you to get better. There is nothing wrong with finding and seeking support in this way.
8) Eat Less Barbeque or Charred Food – While this can go hand-in-hand with balanced diet, it's important to not eat foods that are burned because they have carcinogens that are bad for the digestive tract and can lead to harmful forms of cancer.
9) Drink Lots of Water – One should drink water anyway, but drinking the daily allotted amount is always a good idea because it keeps you hydrated and it helps flush out some free radicals.
10) Get Checkups Regularly – With concierge medicine you will receive the maximum output as far as seeing care so you can see exactly how your body is reacting to post-cancer treatments.
Your health is important and it's even more important to maintain a healthy lifestyle even after the cancer is in remission. Take the steps now to achieve better health and win the fight against cancer.
About the Guest Blogger – Sara Fletcher is a freelance journalist and fitness expert currently researching concierge medicine for her family. You can view more of her writing on Google+.
Medicine is an incredible science. Just to see the advances that have come in the last hundred years shows the staggering power of the human mind when dedicated to healing. Certainly, serious ailments should be left to doctors to diagnose and treat, and nothing is a replacement for hard facts and training in that regard.
But what about small illnesses and injuries? Or keeping healthy in between? Or even just preventing problems, like spider bites or infection? Natural cures are usually perfectly fine for taking care of that kind of thing, and it is helpful to learn such methods at home for the care of yourself and your family.
Pinterest is a boon of information for natural remedies and products. In fact, there are so many boards that I had trouble narrowing it down to just fifteen for this list. Here are some great boards on Pinterest for learning about natural cures.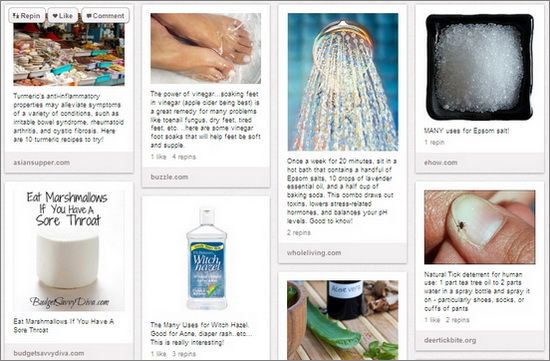 I came across this board through a single pin. It was giving foot soak ideas for dry skin, and I repinned it immediately. Going through the rest of the pins on the board, I was impressed. She has put together a nice collection of practical tips, for everything from allergies to creating aloe vera gel without all the chemicals in the drug store variety.
Did you know that just a simple collection of four common ingredients can clear congestion, coughing and other flu symptoms we are all sure to experience this winter? Have you ever thought to make 'vapor disks' for your shower to make an effective at home humidifier? These are just a few incredibly useful ideas that I have found on this board.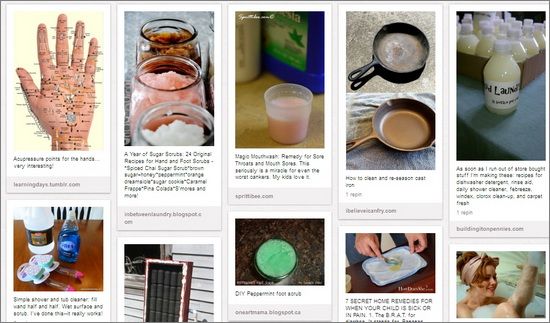 I made home made laundry detergent for the first time thanks to this board, and I have never gone back. Naturalists will love it for the many natural tricks for home cleaning like fresheners using fruits and even making your own Pedialyte.
You need practical tips to run your life completely naturally, and this has a lot of pins that give you step by step directions for common problems. Deter ticks, ward away spiders safely, even dissolve kidney stones.
Make a homemade deodorant that works just as well as the store bought stuff, of get rid of pink eye. I love this board because it has several great tips for people with kids, including one with tricks to curing most baby sicknesses that all little tykes have to suffer through.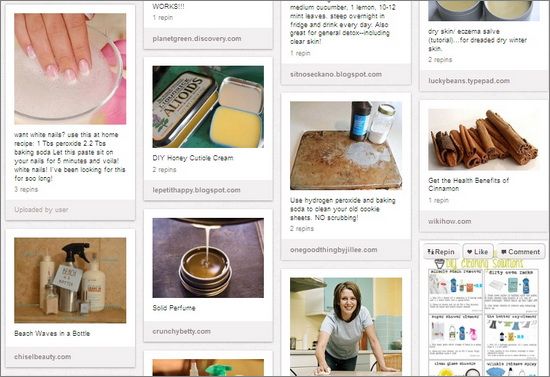 Some of the tips here I admit I tried with no success. But others are really great, like creating a salve for eczema and cleaning a sink for a spotless shine. Others were less effective, like the tips on how to use a Mr Clean Magic Eraser for certain tasks. But hey, they can't all be winners.
In a million years I would have never considered using charcoal to clean teeth for whitening, or jarring a sore throat remedy before flu season to have it at the ready. But this board is just full of tips that are really cool.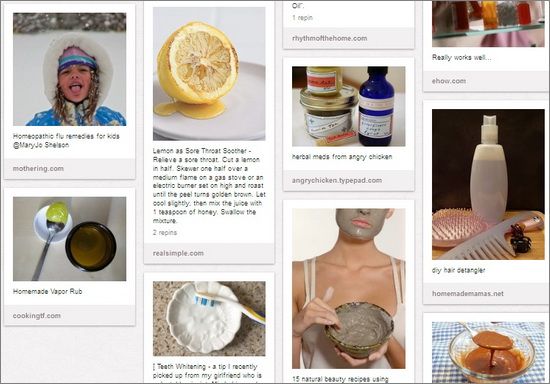 Most of these are beauty tips, which is great for people like me who have really sensitive skin and can't use traditional cleansers, moisturizers or cosmetics. I have used several of these myself in the last couple of years, even before Pinterest, so it is nice to see the tips getting out there.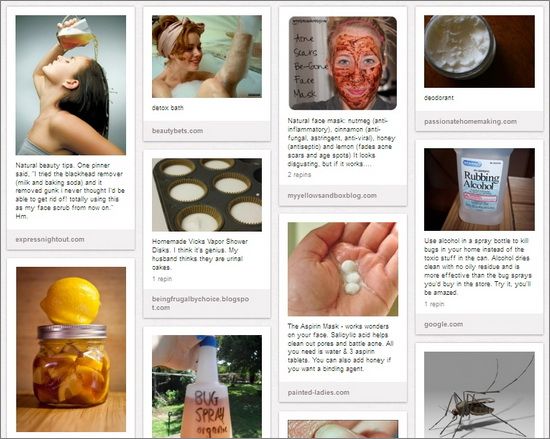 Stop smoking, help to lift your depression, get assistance for female ailments such as cramping and lose bloating with these pins. There aren't that many, but there are a ton of followers regardless. Which always shows a good board.
Learn five herbs that cure the flu, how to cure a sunburn in a single night, how to get rid of splinters painlessly, get rid of ants for good and find out the health benefits of spices like cinnamon. These nineteen pins are one of the best collections on the site.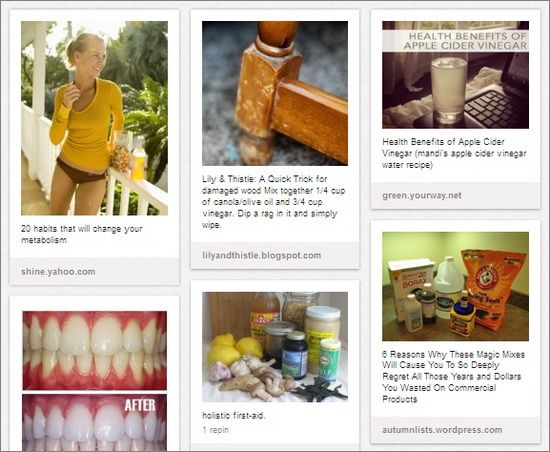 If you wan tto change your metabolism, deep clean your pores without expensive strips, whiten your teeth, replace your shaving cream or anything else cosmetic, there are more than 100 pins here to help you out.
This one is about health and healing, so it is kind of a grab bag. You have fitness videos, tips, natural remedies for wrinkles, liver detox ideas and so much more. You are sure to find at least a few pins you like here.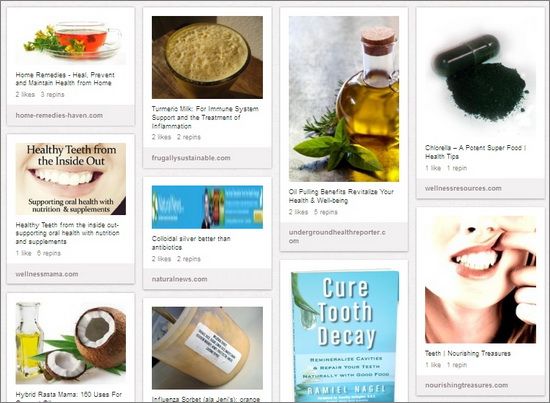 There are a lot of pins about tooth care here, such as stopping decay and whitening naturally. But there are others, as well. Mostly about food and how certain ones can help your body to heal or improve. A lot of it is on the heavier side of alternative medicine and living, so perfect if you are into the niche.
This board has the recipe for honey cough drops, which I love and would swear by to anyone asking for a natural cough remedy. It also have cures for toothache, postpartum bleeding, headache and migraine relief and more.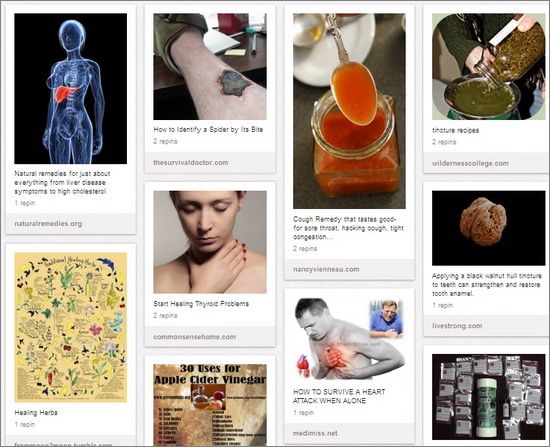 One of the larger boards on the topic, this one has more than 330 pins so far. Everything from making your own survival medicines to dealing with heart attacks while waiting to be taken to the hospital and more. There is some really great – and lifesaving! – advice here.
Do you know of any good natural remedy boards on Pinterest? Let us know in the comments!
About the Guest Blogger – Anna adores traveling, skiing and happy smiling people. That's why she is passionate about health, fitness and self-improvement. Nowadays she is writing for a blog about losing weight with herbs .
When life goes normally and there is no problem with your health, one starts to live in a false sense of security, starts to think that health related problems won't bother you. Unfortunately, being healthy and staying healthy are two different things. It is best to be prepared, because most health problems come without warnings.
One such problem is known as sudden cardiac arrest – when it happens, your heart stops working. No more beating, no more blood pumping, the heart just suddenly stops sending blood to the vital organs and even your brain. This is a serious condition and if not treated within minutes the affected person will die.
Our heart depends on electrical signals, with each heart beat the heart contracts and thus pump blood. However, if the heart beat is not regular, too slow or fast, or in other words the rhythm is not perfect then you should worry about SCA.
In such a condition if you got an AED – automated external defibrillator, with you then it can be used to get the heart to start working again. The AED will send a small electric shock to the heart, and a normal rhythm might start again.
In this article, we will discuss why keeping an AED close by is a good idea.
1) It is portable – It is light weight and easy to handle. One can easily keep it close by.
2) AED is automatic – The voice prompts will tell you everything. It is always good to have trained people around to do it, but since the voice prompts tell you what to do, even an untrained person can help save someone's life.
3) It is battery operated – So, even if you do not have an electric charging point nearby, you can still use it as it is battery operated.
4) Others have it – In shopping malls, schools, airports etc. you can get AED. Since a lot of people these days use it, even if you don't have one yourself, you might get someone close with an AED.
5) It can save life – While getting to a doctor or a hospital is always preferred, but time is always the issue. If you wait for too long to get help, it will most likely be too late. While if you know how to use AED and have one near you, then it can save the patient's life.
Try getting some training on AED, while these AED's are generally made for the non-technician, so that anyone can use it and whenever needed, however one still cannot neglect the value of learned people who have been taught how to use it.
Should we keep an AED at home? If someone in your family has heart problems then perhaps it is not a bad idea to keep an AED at home. Also, make sure to ask your doctor before following any of these tips.
About the Guest Blogger – The author suggests to stay healthy and keep fit, by doing regular exercise and taking proper diet. While being healthy is great and so is trying one's best to maintain it, one still can not ignore the value of precautions, so knowing about AED - www.aedbrands.com and making regular routine visits to your doctor is highly recommended.
There are many blogs posted on health improvement. Some of the blogs will tell you to do exercises more, eat, sleep, and many other methods.
This is true; some things will keep you healthy. However, there are some things or procedures will only destroy your life when you do it too much. This article will mention all the things that will boost your heath and it will tell you what will happen when you over do it.
When someone improves his health, other things will follow like strong immune system, increase of energy, best breathing and many others.
Things that will boost your health.
Source – 8209088@N07
1.    Proper night sleep
A good and proper sleep will help your body function well. It is known by us all that a normal man should get at least 7 hours and a maximum of 9 hours of good sleep. However, this will depend on other factors such as age.
2.    Eat some fruits
We all know the saying; an apple a day, keeps the doctors away. This saying is true. Specialists suggest that you should eat at least one fruit a day. However, there is a method that will make a huge impact on your body. One is recommended to eat the fruit at least 20 minutes before eating the main dish. When you do this, your body will digest the fruit to gain most nutrients from it.
3.    Drink a lot of water
Did you know that about 70% of our body is made of water? Well, we have all heard, or we have been told that one should drink at least 8 glasses of water per day. For those that do not know the functions of water, it helps in hydration of our bodies; the body uses it to remove waste through sweat and urine, circulation of nutrients in the body and many other uses.
4.    Make sure that you are relaxed every day
Over working your self is one way to get poor health. It is advisable for someone to take at least 15-20 minutes to relax and calm himself down. This will help you to reduce stress and weight when you combine with other tips more efficiently.
5.    After eating, look for some time to relax
After eating, give your body some time to digest the food. Through this method, your body will consume fewer calories and your will enjoy your food more.
6.    Eat proper, healthy diet
Eating healthy does not include eating a large quantity of food. Eating healthy is ensuring that you have all the nutrients and vitamins in one course of food or plate. In other words, you should eat different types of foods with different nutrients and vitamins.
7.    Exercise a little per day
There are many ways in which a person can exercise himself. One can decide to walk, run, swimming and many other physical activities. When you exercise, you will prevent disease that affects the heart.
8.    Eat some foods that have fiber
When it comes to cookies, breads, cakes and any other related foods that are made from wheat and rice, one is advised to eat the ones that have fiber. In most areas, when fiber is in bread or rice, it is called brown bread or rice.
9.    Reduce stress
Stress is a huge factor that makes people not to have proper and good health. As you know, we all live in an era where one has to pay a lot of bills that make it a little difficult for one to buy the primary requirements such as food. However, do not let this factor make you have poor health, some specialist say that a certain amount of stress is good for your heath, but when it is too much, you are likely to get poor health. The good stress will motivate you to achieve your goals, boost your self-confidence and esteem.
10.    Eat foods that have minimal fat
Fat is not good for someone's health. The content that it is not good is cholesterol. This cholesterol is not good because it may lead to high blood pressure and in some instant death through heart attack.
11.    Eat more products than meat
As you know, red meat is not good for your health when over eaten. For you to boost your health, make sure that you have at least eaten meat for one day in a week, and the rest of the days, eat vegetables. However, if it is a must for you to eat meat, you are advised to replace it with fish.
12.    Look for products that are locally grown
When produce are shipped from thousands of miles, they tend to reduce in value, or the nutrients die. Furthermore, the produce is picked early so that they do not spoil on the way: Specialist say that fruits and vegetables that have not ripped on the vine have less nutrient benefits to one's life.
13.    Reduce a lot of chemicals in your body
Some of the known chemicals that affect our bodies are alcohol, smoking and drugs. Yes, when you drink a lot, you are likely to have bad health, and you may suffer from disease. Some of the diseases that one can get are lung cancer, high blood pressure and kidney failure.
14.    Relies your emotions
Many of us know that laughter is the best medicine. However, did you know that crying helps too? Well, by crying, one is able to relieve himself of stress which in the long run it will prevent you from getting heart disease, high blood pressure and other related disease that come due to stress. When a person cries, it provides emotional out let that helps someone reduce stress.
15.    Keep your head cool at bedtime
When going to bed, one is expected to relax and also gain energy that was lost when doing a particular thing. However, majority do not clear their heads when they go to bed. This makes them get stress and a sleepless night. Thereby, making a person tied when he wakes up the next morning. The results of lack of proper sleep are lack of concentration, headaches, and overall poor health.
All the above tips will help you improve and boost your health. In some of them, it may not be physically seen, but they work. I urge you to try this and experience the difference.
About the Guest Blogger – Mohd Aktar is a part time professiobal blogger. He writes and shares on healthy living topics like HCG shots. In order to read more about HCG click here.