15 Pinterest Boards For Natural Cures
Medicine is an incredible science. Just to see the advances that have come in the last hundred years shows the staggering power of the human mind when dedicated to healing. Certainly, serious ailments should be left to doctors to diagnose and treat, and nothing is a replacement for hard facts and training in that regard.
But what about small illnesses and injuries? Or keeping healthy in between? Or even just preventing problems, like spider bites or infection? Natural cures are usually perfectly fine for taking care of that kind of thing, and it is helpful to learn such methods at home for the care of yourself and your family.
Pinterest is a boon of information for natural remedies and products. In fact, there are so many boards that I had trouble narrowing it down to just fifteen for this list. Here are some great boards on Pinterest for learning about natural cures.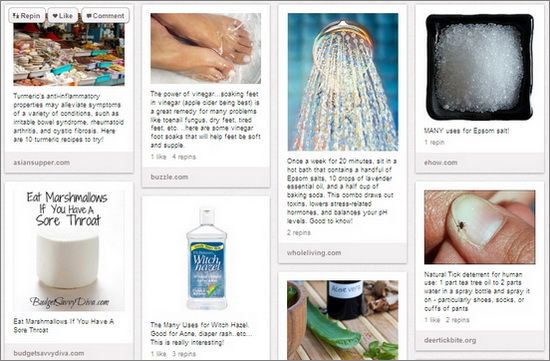 I came across this board through a single pin. It was giving foot soak ideas for dry skin, and I repinned it immediately. Going through the rest of the pins on the board, I was impressed. She has put together a nice collection of practical tips, for everything from allergies to creating aloe vera gel without all the chemicals in the drug store variety.
Did you know that just a simple collection of four common ingredients can clear congestion, coughing and other flu symptoms we are all sure to experience this winter? Have you ever thought to make 'vapor disks' for your shower to make an effective at home humidifier? These are just a few incredibly useful ideas that I have found on this board.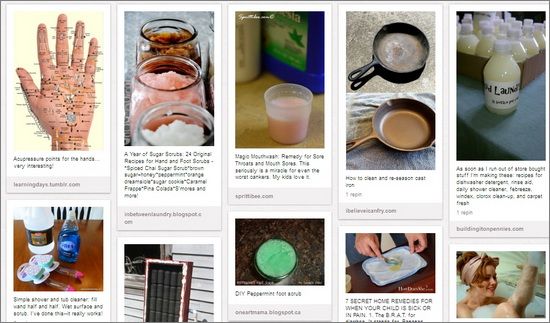 I made home made laundry detergent for the first time thanks to this board, and I have never gone back. Naturalists will love it for the many natural tricks for home cleaning like fresheners using fruits and even making your own Pedialyte.
You need practical tips to run your life completely naturally, and this has a lot of pins that give you step by step directions for common problems. Deter ticks, ward away spiders safely, even dissolve kidney stones.
Make a homemade deodorant that works just as well as the store bought stuff, of get rid of pink eye. I love this board because it has several great tips for people with kids, including one with tricks to curing most baby sicknesses that all little tykes have to suffer through.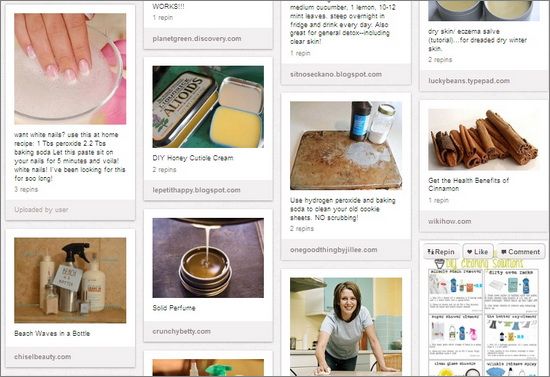 Some of the tips here I admit I tried with no success. But others are really great, like creating a salve for eczema and cleaning a sink for a spotless shine. Others were less effective, like the tips on how to use a Mr Clean Magic Eraser for certain tasks. But hey, they can't all be winners.
In a million years I would have never considered using charcoal to clean teeth for whitening, or jarring a sore throat remedy before flu season to have it at the ready. But this board is just full of tips that are really cool.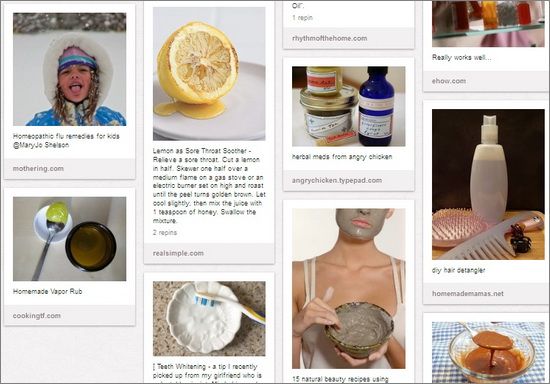 Most of these are beauty tips, which is great for people like me who have really sensitive skin and can't use traditional cleansers, moisturizers or cosmetics. I have used several of these myself in the last couple of years, even before Pinterest, so it is nice to see the tips getting out there.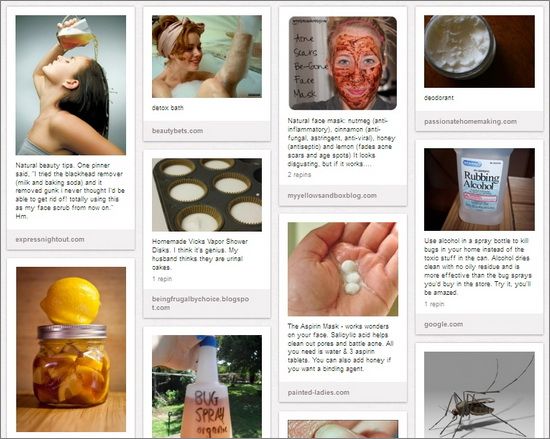 Stop smoking, help to lift your depression, get assistance for female ailments such as cramping and lose bloating with these pins. There aren't that many, but there are a ton of followers regardless. Which always shows a good board.
Learn five herbs that cure the flu, how to cure a sunburn in a single night, how to get rid of splinters painlessly, get rid of ants for good and find out the health benefits of spices like cinnamon. These nineteen pins are one of the best collections on the site.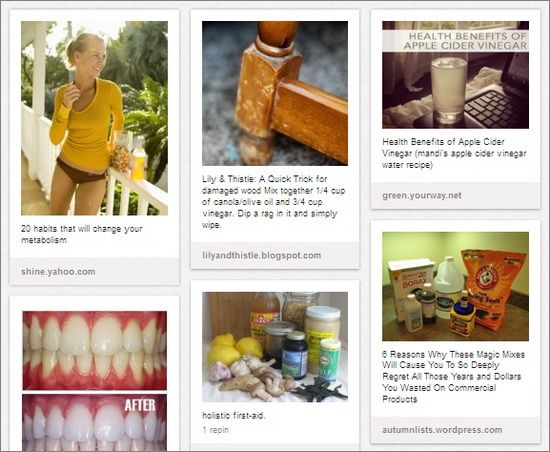 If you wan tto change your metabolism, deep clean your pores without expensive strips, whiten your teeth, replace your shaving cream or anything else cosmetic, there are more than 100 pins here to help you out.
This one is about health and healing, so it is kind of a grab bag. You have fitness videos, tips, natural remedies for wrinkles, liver detox ideas and so much more. You are sure to find at least a few pins you like here.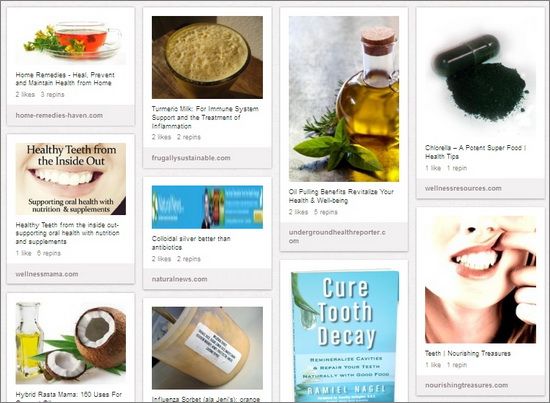 There are a lot of pins about tooth care here, such as stopping decay and whitening naturally. But there are others, as well. Mostly about food and how certain ones can help your body to heal or improve. A lot of it is on the heavier side of alternative medicine and living, so perfect if you are into the niche.
This board has the recipe for honey cough drops, which I love and would swear by to anyone asking for a natural cough remedy. It also have cures for toothache, postpartum bleeding, headache and migraine relief and more.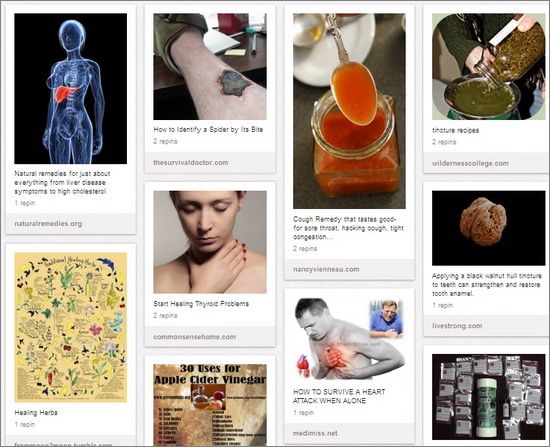 One of the larger boards on the topic, this one has more than 330 pins so far. Everything from making your own survival medicines to dealing with heart attacks while waiting to be taken to the hospital and more. There is some really great – and lifesaving! – advice here.
Do you know of any good natural remedy boards on Pinterest? Let us know in the comments!
About the Guest Blogger – Anna adores traveling, skiing and happy smiling people. That's why she is passionate about health, fitness and self-improvement. Nowadays she is writing for a blog about losing weight with herbs .